Cal Dietz: Author of Triphasic Training
Cal Dietz, Author of Triphasic Training, Talked Speed Development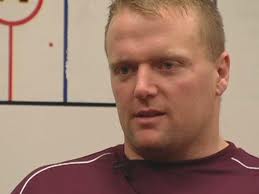 Cal Dietz, University of Minnesota Strength Coach for Olympic Sports, joins The McCarthy Project to talk about the world of strength training and his book, Triphasic Training.
In short order, Triphasic Training has become one of those "go to" books for strength coaches and athletes looking for  leading edge training methods.
For the complete show, visit here
Cal Dietz has been the Head Olympic Strength and Conditioning coach for numerous sports at the University of Minnesota since 2000. Since Dietz's return to Minnesota he has developed the Strength and Conditioning Programs and over seen the daily progress in Men's Hockey from 2000-present, Men's' Basketball from 2004-2010, Women's Hockey from 2003-present, Men's Golf from 2000-present, Women's Golf from 2006-present Men's Swimming from 2000-Present, Track and Field from 2000-present, Baseball from 2000-2007, 2010 -present, and Wrestling from 2000 to 2004. During his tenure, Dietz has trained: a Hobey Baker Award winner, two Big Ten Athletes of the Year, athletes that have achieved 400 All-American honors, 29 Big Ten/WCHA championships teams and NCAA Team Champions, and 13 teams finish in the top four in the nation. He has consulted with Olympic and World Champions in various sports and professional athletes in the NHL, NFL, NBA, MLB, and Professional Boxing.