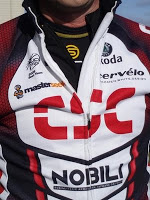 This time of year northerners and some brave southerners get the itch to ride outside in the cold.  I can't tell you how many conversations I have had related to winter cycling apparel and the trick to staying warm.
So check out the post on the coachfitter.com site.  We reviewed Assos, Skins Compression, Desoto, and miscellaneous other pieces of winter cycling apparel.
Topics covered:
What do you use for keeping your feet warm?
What gloves system is the best on the market today?
How many layers do you use?
What type of tights are the best?
Later,
Stephen McCarthy