Barefoot training with shoes has become one of the hottest trends in footwear over the last couple years.  It started with the early adopter runners and has moved over to the CrossFit world.
The main concept is a low stack height. Traditional running shoes have a larger distance from the floor to your heal. They have some serious benefits. Check out our article on stack.com.
One word of caution, don't go out the first day with your new shoes or barefoot and go after a heavy or intense day of lifting.  The forces are really different and your body needs time to adjust to those forces.  Start slowly and work up to a full workout barefoot.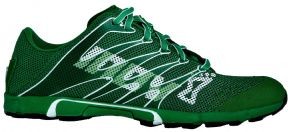 Inov8 running shoes are the industry leaders for barefoot technology.  Applications include gym workouts and running models.
If you have any questions, give us a call.
Stephen McCarthy