Kirk Olson of the Minnesota Wild Talked Athlete Development
Kirk Olson of the Minnesota Wild and Total Hockey Minnesota broke down proper on-ice and off-ice training for hockey players. We talked about age specific training and the checkbook sport of hockey.
My apologies for the technical difficulties at the start of the show.  The feed started about 90 seconds into the show.
Kirk Olson is the General Manager of Total Hockey Minnesota. Kirk is responsible for all aspects of Total Hockey Minnesota's operations and hockey development.
Concurrently, Kirk is the Strength and Conditioning Coach for the Minnesota Wild. Kirk is responsible for developing, implementing, and executing all aspects of strength and conditioning throughout the Minnesota Wild's organization.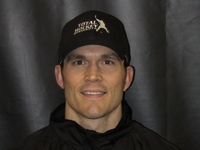 Kirk Olson has been coaching and training athletes for many years. Before coming to Total Hockey Minnesota and the Minnesota Wild, Olson was training athletes in a private capacity, focusing primarily on the development of hockey players. He spent three seasons with the NFL's Minnesota Vikings' Strength and Conditioning Staff before entering the private sector to practice his trade.
Sponsors:
XLAthlete.com: The online strength and speed development source for athletes, trainers, and coaches.
Five Star Basketball: The premier basketball skill development camp in the nation.