Arizona Coach Niya Butts on Developing Your Skills to Play Basketball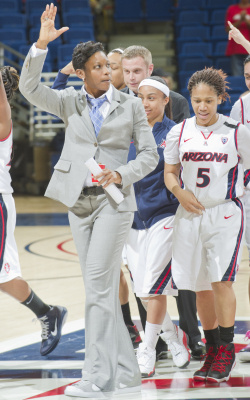 Coach Butts shared her thoughts on how to properly develop the skills to play elite basketball.
You can learn some things from youtube videos, video games, ant to some extent, complex non-basketball movements. All of which has its time and place, but you must develop the ability to dribble with speed, shoot the ball, and defend.
Yup, the basic fundamentals of basketball.  This is coming from a player who played at Tennessee under Coach Summit, won two national championships as a player and has coached at the collegiate level for over 10 years. To Listen to an excerpt from the taped interview, click here.
The complete show will be aired on September 11th at 8am CST.
Entering her sixth season at the helm of the Wildcat program, women's basketball head coach Niya Butts is more energized and driven than ever to continue to build on the strong tradition of Arizona women's basketball and to take the program to new heights. With a talented class of younger players and an experienced and motivated group of veterans, the 2013-14 season is poised to be a successful stop on the road to greatness.
"Niya Butts is hard-working, energetic and dedicated," Arizona Athletics Director Greg Byrne said. "She is one of the rising stars in the coaching ranks and we are thrilled to have her here at the University of Arizona. Her commitment to excellence, on and off the court, is unmatched and she continues to build on the tradition of Arizona women's basketball. She and her staff are great at bringing in and developing young talent. The future is bright for Coach Butts and her squad."