University of Michigan Strength Coach Bo Sandoval on the Balance of Specialized Strength Training by Sport with the Concept of Individualized Training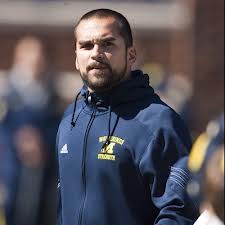 Coach Sandoval will be joining Stephen McCarthy of The McCarthy Project to develop out how a structured training program works in both at a team and a individual level.
Coach has worked with athletes for over 10 years with an extensive background in multiple sports.  We will be covering ways to look at training for lacrosse, basketball and volleyball. The differences between each sport and how young athletes can apply the training information to their current programs.
Tune in October 30, 2013 at 9am CST for the complete show.
Bo Sandoval is in his fourth year at U-M. Prior to being named Assistant Director of Strength and Conditioning in summer of 2012, he served as an assistant strength and conditioning coach for Olympic Sports at the University of Michigan. Sandoval designs and implements supplemental performance programs for men's lacrosse and women's basketball. He specializes in providing comprehensive training programs focused on multi-year development. Sandoval's individualized training programs are influenced by the requirements of each athlete's specific competition needs and are based on each team's competition calendar. Sandoval's other responsibilities include directing the strength and conditioning department's intern education program.