By Elizabeth Renter, Natural Society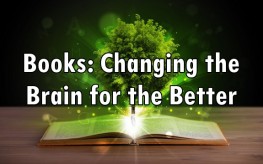 If you're a reader, chances are there are a few books that stand out as having changed the way you thought about something. Far more than just a little escapism, books have the ability to change our lives, and as a new study shows—they can even change our brain chemistry.
Researchers from Emory University in Atlanta published their work in the journal Brain Connectivity, where they revealed reading a novel can have lasting effects on the brain.
For the study, 21 undergraduates were recruited to read the novel Pompeii, by Robery Harris. Written in 2003, the volume follows a protagonist as he watches the impending eruption of Mount Vesuvius from afar. It's a thriller and has a "strong narrative line", something the researchers thought important when choosing the book. More details