Braden Holloway of NCSU on Realistic Expectations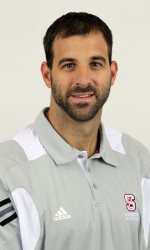 Braden joined Stephen McCarthy to talk about realistic expectations in sport and life.  So many times young athletes miss the joy of competition by focusing on going to a this or that college.  While Braden is at North Carolina State University, he stresses that not every swimmer is going to compete in the ACC or at a major college level.  If they do not, athletes should not view themselves as failure. Each athlete has a place in college sport if they desire and they should embrace it to enjoy the sport and life.
For the complete interview, visit here.
Bio Information on Braden Holloway:
2013 ACC Coach of the Year, a five-time All-America selection as a student-athlete and 2001 graduate of NC State, enters his third season as head coach of the Wolfpack swimming and diving program. He was named to the position on June 29, 2011, by Director of Athletics Deborah A. Yow. Full Bio