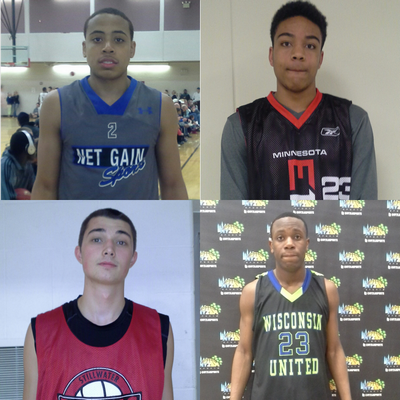 The Minnesota Twin Cities metro area high school basketball fans are hyped for the summers biggest talent showcase event as the top players from Minnesota face off in a battle with in the classes event to see who's tops. This year's Under The Radar Showcase features exclusive match ups of prospects that would have otherwise never faced one another in competitive games as well as Minnesota's top prospects bring their games to the Twin Cities to end the traveling basketball season.
Prospect Focus
The Main Attraction Prospects
Marshawn Wilson 6'3 G, Wisconsin United, Hill Murray
"Marshawn Lynch Beast Mode" is the nick name and for good reason Wilson excels at exploding through the lane and punishing defenders with his physicality. Wilson is coming off a breakout spring campaign preforming at high level for Wisconsin United helping lead to be one of the top ranked 17U teams in the nation. Wilson put up some big time performances against top level competition and should be primed to do the same in this year's Under the Radar Showcase.
JT Gibson 6'3 PG, Net Gain, Champlin Park
Gibson is one of the top point guards in the state and is and division 1 recruit. Gibson has had a excellent summer preforming against high caliber competition during the spring for Net Gain. Gibson has consistently competed on a high level is on of the premier prospects from the class and demonstrated that ability in this year's Under The Radar Showcase.
Sacar Amin 6'4 SG, Pulley's EYBL, De La Salle
Amin is one of the premier shooting guard prospects in the class, a high flyer with a high caliber shooting guard skill set. Amin is coming off a great spring campaign preforming at high level during the live recruiting periods, racking up a host of offers.
Kyle McKinley 6'10 PF, Net Gain, Stillwater
McKinley is one of the top post prospects from Minnesota's 2015 class, has great regional interest and is a division 1 recruit. McKinley is coming off a good spring campaign for Net Gain and a prospect to keep a eye during this year's 2015 showcase game.
For additional players, Full Article