Today on the Show we covered organic nutrition during a race and the value of Rock Tape
Erin Demarines of Tri3Bar talked about organic nutrition for vegan

and vegetarians and how she developed the original non-gmo, gluten-free energy bar.  She started from humble beginnings in Brentwood, CA to create a bar that has great taste and top notch nutrition.
For more information on Erin, click here
In the second hour, Jill Magee of Rock Tape discussed the value of kinesio taping or therapeutic taping.  She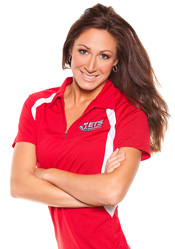 mentioned the foundational information of taping your body for performance.
For more information on Jill, click here.
To listen to the complete show, click here
Sponsors:
XLAthlete.com: The online strength and speed development source for athletes, trainers, and coaches.
Five Star Basketball: The premier basketball skill development camp in the nation.