Lindsey Berg of USA Volleyball: Her Story and How She Rose to Become Captain of the Olympic Team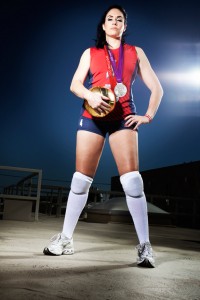 Lindsey Berg of USA Volleyball joined The McCarthy Project to talk about her life growing up in Hawaii to the gold medal game during the London Olympics. She talked about growing up as a coaches kid in Hawaii and traveling to the mainland to play in travel volleyball tournaments.
She also shared why a athlete from Hawaii would choose the University of Minnesota to go to school.  Lindsey discussed her vision for volleyball in the United States.  Currently, there are few opportunities for volleyball players post college and the ones that are available are in Europe.
She covered a whole host of other subjects, like how to be the best when you are not the best pure athlete, the recruiting game, and leadership.
For the complete interview, visit here and on the 2012 Olympic games, visit here
Lindsey Berg's Complete Bio Information: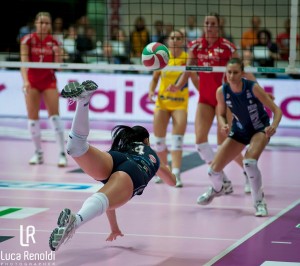 MAJOR INTERNATIONAL COMPETITION: 2012 – FIVB World Grand Prix Preliminary Rounds…Olympic Games (Silver). 2011 – FIVB World Grand Prix (Gold)…NORCECA Championship (Gold)…FIVB World Cup (Silver). 2010 – FIVB World Championship (Fourth). 2009 – Final Four Intercontinental Cup (Silver)…NORCECA Continental Championship (Fourth) 2008 – U.S. Olympic Team Exhibition for Volleyball versus Brazil…FIVB World Grand Prix (Fourth Place)…Olympic Games (Silver Medal). 2007 – NORCECA Championship (Silver Medal)…FIVB World Cup (Bronze Medal). 2006 – World Grand Prix (Seventh Place). 2005 – Front Range Tour vs. Brazil…Pan American Cup…World Grand Prix…FIVB World Championship Qualifying Tournament (gold medal)…NORCECA Continental Championships (gold medal)…World Grand Champions Cup (Silver Medal). 2004 – Yeltsin Cup…Montreux Volley Masters (Silver Medal)…Pan American Cup (Silver Medal)…World Grand Prix (Bronze Medal)…Olympic Games. 2003 – Montreux Volley Masters…Russia Tournament…Pan American Cup (Gold Medal)…World Grand Prix (Bronze Medal)…NORCECA Zone Championships (Gold Medal)…Texas Tour…World Cup (Bronze Medal).
INTERNATIONAL HIGHLIGHTS: 2012 – Started the first six matches of the FIVB World Grand Prix preliminary round, including victories over Olympic qualified teams Brazil, Italy and Dominican Republic…Averaged 4.75 running sets…Starting setter in seven of eight Olympic Games matches helping squad to the silver medal…Averaged 10.96 running sets and 2.21 digs…Added five kills on 13 swings…Missed quarterfinal round victory due to injury, but came back to lead U.S. to sweep of Korea in semifinals with a .400 hitting efficiency…Helped Team USA to an overall .347 hitting efficiency during the Olympics…Finished 2012 with 18 points and 118 digs with 16 starts and 53 sets played. 2011 – Named USA Volleyball Indoor Female Athlete of the Year for her performance during the 2011 season…Started 12 of 14 matches of the FIVB World Grand Prix and helped the Americans win their second straight title…Aided the U.S. to a .293 team hitting efficiency with 7.57 sets per set…Added 78 digs (1.86 per set), eight blocks (0.19 per set) and seven aces (0.17 per set)…Scored three blocks and a kill versus Italy on Aug. 20..Helped Team USA hit .302 in gold-medal match versus Brazil on Aug. 28…Named Best Setter of the NORCECA Women's Continental Championship after averaging 7.07 assists per set and helping the squad to a .364 hitting efficiency on the way to winning the gold medal…Added a 1.13 dig average during the NORCECA Championship…Turned in 29 assists leading the U.S. to a .342 hitting efficiency in a three-set victory over Dominican Republic in the NORCECA gold-medal match…Started 10 of 11 matches in FIVB World Cup leading to the silver medal and 2012 Olympic Games qualification…Averaged 10.27 assists per set at World Cup, helping the squad to a .368 hitting efficiency and 46.5 kill percent…Ranked third in Best Setter at FIVB World Cup…Scored 53 assists, two kills and an ace in four-set win over Brazil…Totaled 51 assists in four-set win over Italy as U.S. hit .314. 2010 – Played in 17 sets during the FIVB World Championship…Started the bronze-medal match versus Japan on Nov. 14, recording 26 assists, nine digs and a kill in a five-set loss…Came off the bench to provided 40 assists, 11 digs and a block in the semifinal match versus Russia on Nov. 13. 2009 – Tallied 115 assists in 39 sets after taking much of the year off to recover from surgery after 2008 Olympic Games…Averaged 2.63 assists per set at Final Four Intercontinental Cup to rank second among all players…Added four kills, six blocks and two aces during the Final Four Cup, her first tournament competition of 2009…Totaled five points (2 kills, 2 blocks, 1 ace) and 10 digs versus Brazil on Sept. 9…Provided 3.17 assists per set during NORCECA Continental Championship in starting all six matches and playing in 23 sets…Contributed 34 assists, two blocks, an ace and five digs versus Dominican Republic on Sept. 26. 2008 – Named USA Volleyball Female Indoor Athlete of the Year…Started four of six sets played during three-match exhibition series with Brazil, including three set starts on June 11…Started 43 sets of 51 sets played at World Grand Prix…Ranked seventh in setting based on assists per set (6.58) during the FIVB World Grand Prix preliminary round…Scored three blocks in match versus Italy on July 12…Despite only nine set starts and 25 overall sets entered during the Olympics Games, played a key role at setter in leading USA to a silver medal at the Olympic Games…Started the fourth and fifth sets against Italy in the Olympic Games quarterfinals, which led to scoring runs of 8-0 and 5-0 to begin each set to help USA advance to the medal round…Tallied three aces and a block in the victory over Italy, along with 21 assists…Served as co-captain for the team at the Olympic Games. 2007 – Provided 37 assists in mainly a reserve role at the NORCECA Championship…Started the final three sets of the NORCECA Championship gold medal match against Cuba…Contributed four points, all aces, against Mexico on Sept. 18…Started 17 of 27 sets played at the FIVB World Cup with an average of 5.74 assists and 0.70 digs per set…Started first six matches of the World Cup resulting in a 6-0 record, in addition to the final match against Italy. 2006 – Named Best Setter during two of the three legs of the World Grand Prix (Macau and Bangkok)…Ranked as the second-best setter through the World Grand Prix Preliminary rounds…Averaged 9.59 assists per set (355 total assists) in the World Grand Prix…Helped U.S. to an overall .303 team attack percentage for the entire World Grand Prix. 2005 – Starting setter for the USA Women's National Team that captured the silver medal at the season-ending FIVB World Grand Champions Cup in Japan in November…The United States finished the tournament with a record of 4-1 as it earned wins over Korea, 2004 Olympic gold medalist China, Poland and Japan along the way…Captured "Best Setter" honors and earned a gold medal as Team USA won its third-straight NORCECA Continental Championship with a five-set victory over Cuba on Sept. 11…The USA Women qualified for the FIVB World Grand Champions Cup with the win…Also named "Best Setter" as she earned a gold medal in August at the FIVB World Championship Qualifying Tournament as the USA Women qualified for the 2006 World Championships…Named "Best Setter" at the Pan American Cup tournament in the Dominican Republic in June as the USA Women finished fourth and clinched a berth in the 2006 World Grand Prix. 2004 – Lindsey made her first Olympic appearance in Athens, Greece, as Team USA finished fifth overall… Earned "Best Setter" honors at the Pan American Cup in Mexico as Team USA earned a silver medal and a berth in the 2005 World Grand Prix. 2003: – Earned "Best Setter" honors at the Pan American Cup in Mexico after guiding the United States to a perfect 5-0 record and a berth in the 2004 World Grand Prix…Finished third in assists per set at the World Grand Prix in Italy with 11.42 assists per set…Helped the United States earn a bronze medal at the 2003 World Cup and a berth in the 2004 Summer Olympic Games in Athens, Greece…Played in a team-high 156 sets during the year as she saw action in all 44 matches…Led the team in total assists (1,093) and finished third on the team in digs (177).
PROFESSIONAL HIGHLIGHTS: 2008 – Led Asystel Volley Novara to the Italian Serie A semifinals. 2007 – Played for Scavolini Pesaro in Italian Serie A League. 2006 – Played for Scavolini Pesaro in Italian Serie A League. 2005 – Played for Scavolini Pesaro in Italian Serie A League. 2002 – Helped lead the Minnesota Chill to the United States Professional Volleyball league championship…Berg earned Outstanding Server, Outstanding Setter and All-USPV honors for her efforts.
COLLEGE HIGHLIGHTS: Berg was a three-time All-Big Ten selection at the University of Minnesota (1999, 2000, and 2001)…She finished her collegiate career in 2001 ranked third in the Big Ten in all-time assists (5,913).
PERSONAL: Born Lindsey Napela Berg on July 16, 1980 in Honolulu, Hawaii…Parents are Dennis and Tina Berg…Also has a sister, Erin…Enjoys fashion, music and traveling…Her happiest moment in sports was winning a Silver Medal at the 2008 Olympic Games and getting an opportunity to play in the Gold Medal Match…Graduated in December 2001 with a bachelor's degree in business/marketing…Graduated high school from Punahou High School in Hawaii, which has notable alums such as U.S. President Barack Obama and women's pro golfer Michelle Wie…Will be inducted into the University of Minnesota M Club Hall of Fame in September 2012.