Creighton University Basketball Coach Greg McDermott on Coaching Your Own Children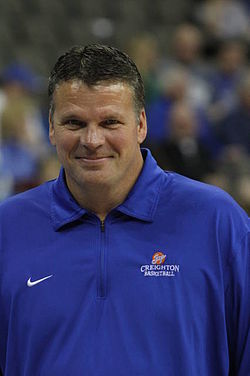 Coach McDermott joined Stephen McCarthy to talk about coaching young athletes and more specifically, your own children.  Coach has the honor of coaching one of his children at Creighton University, All-American Doug McDermott.
Coach shared his thoughts on parents role with young players, how to get batter while playing a role you don't like, and finally, if your parent is the coach, how should you handle yourself.
Here is a portion of the interview with Greg McDermott on Coaching Your Own Children.
The complete interview will be aired Monday, Sept 9th at 8:00am CST.
Graduating student-athletes, record win totals, sold-out crowds, an MVC tournament title, postseason success and an All-American son are part of the legacy that Greg McDermott has created in his first two seasons on The Hilltop.  Named the 16th head coach in Creighton men's basketball history on April 27, 2010, McDermott has gone 52-22 in his first two seasons, while returning the program to the national rankings with an up-tempo style of play that has fans turning out in record numbers. Last season, Creighton tied a school record with 29 wins and reached the third round of the NCAA Tournament, while establishing a program record with 2,772 points. The team spent 16 weeks ranked in the top-25, and earned its inaugural First-Team AP All-American in program history when Greg's son, Doug, was honored following a record-setting season.  Doug was the first sophomore in league history named MVC Player of the Year, setting a school record with 801 points while also leading the nation with 307 field goals.