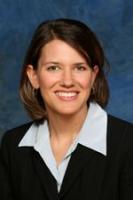 Head Volleyball Coach Kirsten Bernthal Booth of Creighton University will be joining Stephen McCarthy of The McCarthy Project to talk about how off-court training habits lead to success on the court.
Specific areas covered: Structure vs individuality, General thoughts that lead to success, sleep, nutrition, watching film, and how the use simple communication leads to better decisions.
For the complete interview, visit The McCarthy Project Blog Talk Radio site.
Bio Information:
Two-time National Coach of the Year Kirsten Bernthal Booth will enter her 12th season in 2014 with six returning starters from a team that finished 23-9 and spent six weeks in the Top 25 a year ago.   Creighton's 2013 campaign opened with a win over No. 13 BYU en route to a Hampton Inn Invitational title, and led to runner-up finishes in the regular-season and tournament of its new league, the BIG EAST.  CU led the nation in blocks per set and were anchored by all-league picks Leah McNary and Kelli Browning, reaching the second round of the NCAA Tournament for the third time in four years.  Booth enters her 12th year as head coach at Creighton with an impressive past, both on and off the court. Under her direction, the program has attracted two crowds of more than 12,000 while ranking in the top-50 nationally in attendance each of the past eight years. Full bio