By Ryan Schleicher July 24, 2014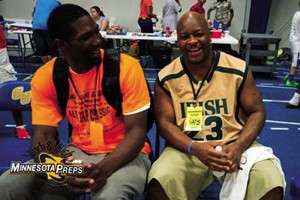 Brian Sandifer always wondered how he could get kids to stay grounded with their hometown roots as they grow and become successful in sports and in life.
"So many times people see a child grow up, get some success, and then leave their hometown really never supporting it again and this bothered Brian," said Stephen McCarthy, president of the McCarthy Project. which helped develop a question Sandifer always had into an organization aimed at providing an answer.
Like a light bulb, voila!
The Grassroots Hoops Clubs were formed. Getting kids connected, recognized, and established in their own communities is the primary focus of the clubs. Sandifer, who heads the Grassroots Hoops Club with McCarthy, uses the incredible talents that outstanding kids display on the basketball court as a way to further their understanding, knowledge and connectedness to themselves, their communities and the people around them. McCarthy and his McCarthy Project further assists the Grassroots Hoops objective by providing health, nutrition and educational lessons to the athletes designed to fuel their minds and their bodies maximizing their potential for success.
For the complete article, visit the SunFocus site.