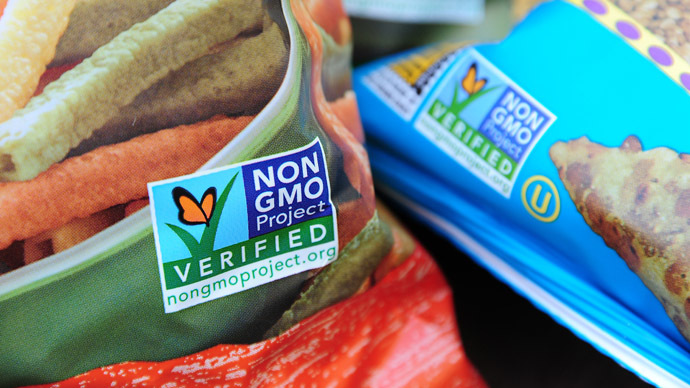 Perhaps you've heard of Unilever? The company sells products under 1,000 brands, including Hellmann's mayonnaise Suave, Klondike, and TRESemmé. In addition to donating hundreds of thousands of dollars to shut down GMO labeling, the mega-corp has also decided to file a lawsuit against an upstart vegan mayonnaise-making company, claiming "false advertising and unfair competition."
A Hellmann's ad says:
"At Hellmann's, we make our mayonnaise with real, simple ingredients like good eggs, delicious vinegar and oils rich in omega 3. So it's definitely a step in the right direction. Lean about he Real Food Project at hellmanns.com."
However, if you take a look at this ingredient list and do a little deductive reasoning, you'll see that they have a reason to be nervous about a company who makes a healthier version of mayo: it's full of soybean oil (mostly made from GMO soy), non-organic eggs, likely from chickens who are kept in cruel circumstances, and made to eat GMO feed), and vinegar. Heinz was recently targeted for claiming its vinegar was "all natural," when GMOs are less than natural. Will Unilever, the parent company of Hellmann's, face similar issues?
The Anglo-Dutch mega-conglomerate Unilever said the vegan company Just Mayo, ". . .already is stealing market share from Hellmann's."
Oh, that is a little frustrating isn't it – when people vote with their dollars and refuse toxic food?
Unilever, which has also swallowed Ben & Jerry's, Breyer's, Lipton, Mrs. Filbert's, Slimfast, Close-Up, Noxzema, Q-Tips, Vaseline, and hundreds of other brands into its multinational guzzler, argues that:
"Hampton Creek's materially false and misleading Just Mayo name, packaging, and advertising has caused and unless restrained will continue to cause great and irreparable injury to Unilever."
Unilever is seeking to reverse the new-found success that Hampton Creek is experiencing with their new mayo product. The company wants Hampton Creek to "remove all jars from shelves, and pay Unilever three times damages, plus attorney's fees." Hampton Creek is also being told to start calling their mayo something else because it, "damages the entire product category, which has strived for decades for a consistent definition of 'mayonnaise' that fits with consumer expectations."
The FDA, Unilever points out, defines mayonnaise as including an "egg-yolk containing ingredient."
Now Hampton Creek has had to prepare a countersuit, partly to determine 'what makes mayo mayo."
Part of the legal tussle may have instigated because Hampton Creek posted on Facebook that it was "Beating Hellmann's in taste tests," and also posted a cartoon of a jar of Just Mayo with boxing gloves standing over a KOed jar of Hellmann's and being declared "The Winner!"
Unilever was not happy. "Hampton Creek's superiority claims are false because they are not supported by reliable testing that reflects actual consumer preferences."
It's easy to control the market as a mega-corporation with deep pockets.