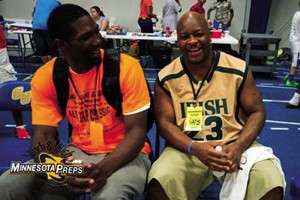 December 29, 2014, St. Paul, MN, Ques Promotions present the Grassroots Hoops Club All-Star Alumni Event.  Attending will be the top past and present talent in Minnesota.  The event will be held June 21st. Event flyer, click here.
The Alumni event will be held at Concordia University in St. Paul, MN and doors will open at 12pm. The event includes a dunk contest, 3 point shootout, and All-star game.
Past players include:
Jordair Jett, Atlantic 10 Player of Year, University of St. Louis
TDUBB, Number One Dunker in the World
Troy Bell, NBA 1st Round Draft Choice Memphis, Boston College
Trevor Mbakwe, European Pro, University of Minnesota
Rodney Williams, NBA Pro, University of Minnesota
Moe Hargow, European Pro, University of Minnesota
The following list of local celebrities have attended:
Trent Tucker, NBA pro and University of Minnesota
Barry Wohler, University of Minnesota
Zeb Howell, University of Minnesota
Randy Carter, University of Minnesota
Talance Sawyer. NFL Pro
Dan Speak, DJ.
Listen to Brian Sandifer as he joined Stephen McCarthy on Blog Talk Radio discussing his event.
Event Archives:
Under The Radar Showcase 2014
Go Fast, Go Hard Combine 2014
Media Contacts:
Brian Sandifer
Grassroots Hoops Club
651-263-6924
www.grassrootshoopsclub.com
Stephen McCarthy
The McCarthy Project
612-741-0982
www.themccarthyproject.com